Arini saya nak berkongsi satu lagi info tentang mesin jahit JANOME..harap dapat membantu kawan-kawan dalam dunia jahitan ni yang tengah tercari-cari untuk membeli mesin jahit peribadi mereka...Jom sama-sama kita berkongsi info :-)
Janome Memory Craft 6600 Professional Sewing & Quilting Machine
The Memory Craft 6600 Professional has the speed and precision critical to advanced sewing. The 6600 contains loads of features created especially for quilters, including the AcuFeed system. AcuFeed is the Layered Fabric Feeding System that ensures your sewing and quilting are even, smooth and precise on all types of fabric. The AcuFeed foot is integrated with a unique seven-point feed dog system. Your fabric is guided perfectly from the top and the bottom. AcuFeed is a unique and innovative feature - once you try it you'll wonder how you ever lived without it!
Key Features
AcuFeed: Layered Fabric Feeding System.
AcuFeed perfectly guides your fabric from both the top and the bottom. Only Janome truly integrates its innovative AcuFeed foot with a unique seven-point feed dog system. This ensures all fabrics move smoothly, even thick layers of quilting fabric and batting.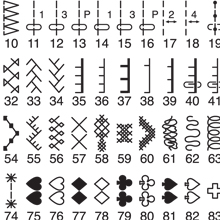 163 Stitches with On-Screen Manipulation.
Choose from dozens of decorative and quilting stitches. The screen has enhanced clarity and extra. All of the stitches are easier to choose, customize and save into memory.
Start/Stop Button.
Relax your pedal foot while doing those long seams or free motion quilting over a large area. The handy Start/Stop Button makes a big difference when you spend a lot of time at your machine.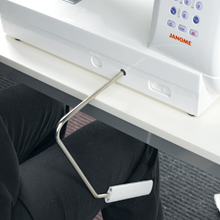 Knee Lift
Raise the presser foot without taking your hands off your work. It's like having an extra hand. This is crucial for quilting and other projects with long or repetitive seams.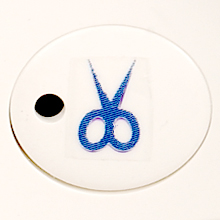 Automatic Thread Cutter.
Just touch the key to manually snip your thread. You can also program the snip at the end of a stitch.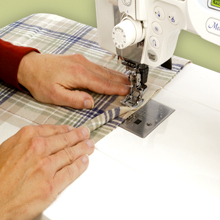 Wide Open Spaces.
Spread out with the largest arm and bed space of any household sewing machine: 9 inches x 5 inches (225mm x 120mm). The design is not only spacious, it's also ergonomic and intuitive.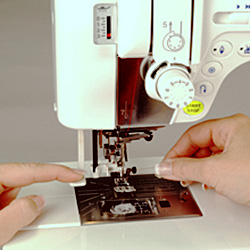 Easy Needle Threader.
Another great time saving feature to get you sewing faster. Just push down the lever, loop the thread through, release, and you're ready to sew.
Features
Enhanced backlit LCD screen with more stitch details.
Favorite stitch settings default.
Start/stop button.
Speed control lever.
External feed balancing dial.
AcuFeed: Built-in layered fabric feeding system.
Automatic thread cutter, with memory capability.
Built-in needle threader.
Independent motor for bobbin winding.
14 standard feet.
163 Stitches across 4 modes.
7 one-step, sensor buttonholes.
Block and script monogram stitches.
Maximum sewing speed.

1000 spm/Straight.
700 spm/Zigzag.

Visible pressure guage.
Jam-proof, magnetic, top-loading, full-rotary hook system.
7-point feed dog.
Front access feed dog up/down control.
Extra-high presser foot lift.
Twin needle guard.
Adjustable stitch width from 0 to 7mm.
Adjustable stitch length from 0 to 5mm.
Individual stitch editing.
Combination stitch editing.
Elongation.
Turn over memory.
Recall memory bank.
Resumption set/last stitch recall.
Quick command keys.

Auto-lock.
Lock-a-matic.
Needle up/down.

Vertical thread delivery system with dual thread guide bar.
71 needle drop positions (including 15 left to right needle positions).
Extended seam allowance guide.
Beep indicator shut-off.
Large extension table.
10 languages available on-screen.
Knee lifter.
Electronic foot control.
Sewing light.
Arm and bed space: 9 inches x 5 inches (225mm x 120mm).
Weight: 26.5lbs. (12 kg).
Soft dust cover.
Standard Accessories
Pre-wound Bobbins

Save time by using pre-wound bobbins. These are designed for professional style embroidery but can be used in all Janome machines. Each bobbin contains 105 yds. of 100% Spun Polyester Bobbin Thread, on a clear plastic bobbin, weight 60/2. A dozen bobbins per pack. Available in White, Black, and White/Black combo.

1/4 inch Seam Foot O

Sews a 1/4 inch seam allowance quickly and accurately. Great for piecing quilts and topstitching.

Blind Hem Foot G

Place fold of fabric against black guide for an invisible blind hem, even topstitching and fabric tucks.

Cording Foot H

Slots in this foot will hold one to three lengths of cord in place while stitches form over the cords.

Darning Foot P2 (embroidery machines)

Spring-loaded foot for free-motion embroidery, quilting and free form monogramming.

Overcast Foot M

Industrial type of overlock stitch for professional seam finishing. This stitch can be used to finish off a raw edge or for simultaneously seaming and overcasting.

Overedge Foot C (top loading 5mm machines)

Use with an overcast stitch to wrap thread around the edge of your fabric to prevent raveling. Fits top loading machines with 5mm zig zag stitch width.

Satin Stitch Foot F

For dense zig-zag stitching. Bottom of foot is beveled for smooth delivery of thread when sewing decorative or satin stitches.

Zig-Zag Foot A

Also called the all-purpose foot. Used for most utility sewing from straight stitch to zig-zag stitching.

Zipper Foot E

For use when sewing in zippers.

Lint Brush

Use it to brush away lint.
Bobbins.
Set of Needles.
Feet.

Automatic Buttonhole Foot R.
Cloth Guide with Screw.
Dual Feed Foot AD.
Rolled Hem Foot D.

Quilting Bar.
Spool Holder (large).
Spool Holder (small).
Seam Ripper.
Screwdriver.
Knee Lifter.
Foot Control.
Accessory Box.
Power Supply Cable.
Quick Reference Chart.
Instruction Book.
Specifications
Built-in needle threader.
Auto thread cutter.
Thread cutter on face plate.
Snap on presser foot.
Foot pressure adjustment: adjusting screw with indicator.
Horizontal full rotary hook model.
Maximum speed.

Straight: 1,000 spm.
Zigzag: 700 spm.
Start/Stop button: 700 spm.

7 pcs. Feed Dog.
Upper feeding system.
404 Total stitches including buttonhole and monograms.
150 Total built-in stitches including 7 buttonholes.
Monogram.

67 Alphabet & Number.
60 European in 2 Fonts (Block & Script).

Feed balance on S.S. & BH.
Adjustable zigzag width.
Maximum zigzag width: 7 mm.
Adjustable stitch length.
Maximum stitch length.

5 mm Forward.
5 mm Reverse.

Stitch selection.

Ten-Key mode.
Direct mode.
Quilting mode.

Stitch indication on LCD, improved screen layout.
Elongation.
Tension dial: Manual beehive type.
Lever drop feed device.
Dual white LED lamps.
Bobbin winder: Independent motor.
Bobbin winder thread cutter.
Pop-up hook cover plate.
Slited thread take up lever.
Industrial spool stand.
Start/Stop button.
Speed control slider.
Control keys.

Auto thread cutter key.
Help key.
Lock stitch key.
Needle up/down key.
Reverse feed key.

Auto stop at end of buttonhole.
Memory function: Memorable between the modes.
Turn-over stitch & reduction of monogram.
Editing.

All At Once.
Individually.

Memory recall/Previous setting recall: 5 memory banks.
Customized setting function: width & length of BH & Direct Selection Mode.
Buzzer sound level adjustment: 4 levels.
9 Language selection.
Presser foot lifter at the back of the presser bar (with sensor); two step.
3 Feet for upper feeding system.
Knee lifter.
Electronic foot control and Start/Stop button.
Dust cover (#846806).
Machine body: Arm & bed partially modified.
Folding handle (short).
Extension table: W 600 x D 400 mm.
Machine size: W 19.5 x H 11.8 x D 8.6 inches.
Arm space: W 8.8 x H 4.7 inches.
Machine weight: 24 lb.
Optional needle plate (SS) for 7 piece feed dog.
Limited Warranty
Mechanical: 25 years.
Electronic: 5 years.
Labor; 1 year.
Semoga info ini dapat membantu anda membuat pilihan yang lebih tepat :-))
<>
CORETAN BY DSUEFIA COLLECTION